Optician Recommendations: Breanna and Fashion Frames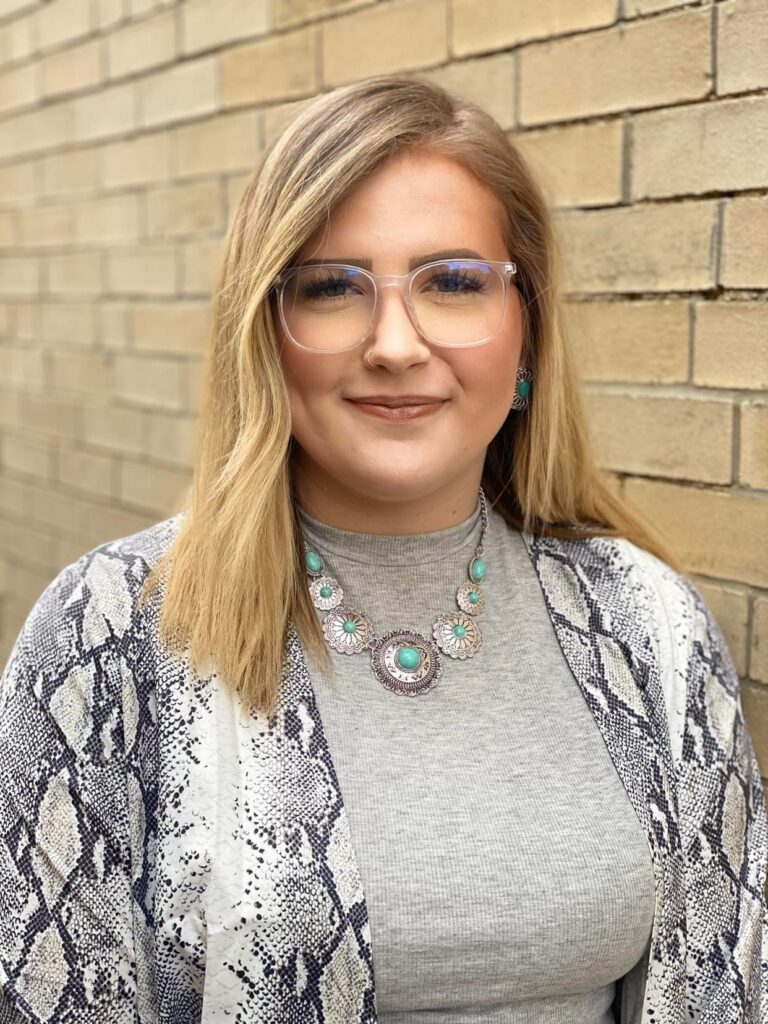 Breanna is the Optical Manager at our Oil City office. She loves fashion and is diligent in finding the best solutions for every patient she assists.
Read on to find what she has to say about her favorite eyewear recommendations!
My favorite frame line is Ray-Ban. I love metal frames that have a fun shape. Ray-Ban has a lot of that style, whether sunglasses or regular eyeglasses; they have a lot of fun shapes to choose from!
I wear a lot of neutral colors, but there is nothing I love more than to see someone absolutely rocking a fun, colorful, statement-making frame. 
L.A.M.B. frames are always bold and colorful, Carolina Herrera has colorful, classy frames, and Bebe's selection is always glittery and glamorous!
When I help someone pick out eyewear, I always recommend frames with flex or 180 hinges. They not only give you a little bit of wiggle room but also are more forgiving if you were to bump or bend the side of your glasses. They also don't put additional pressure on your temples and are more comfortable.
For women looking for a stylish brand that always has fun, trendy frames, I recommend Ted Baker, but Nicole Miller is also an exceptional choice because of its inclusive sizing. From petite to extended sizes, they literally have something for everyone. 
The Titanflex brand is popular with a lot of men. It is one of the more durable lines of frames for guys who are tough on eyewear. Champion is another inclusive and stylish option that I recommend to men. 
For children (especially if they are young), I mostly recommend a plastic rather than a metal frame. I feel that with your first pair of glasses, you'll be more likely to wear them if they are comfortable, and a lot of times plastic frames fit better than metal. There are also fewer pieces for kids to break on plastic frames. Additionally, I like to know if the glasses will be for full-time wear or just for schoolwork, as that can impact their needs. However, when it comes to style, GX by Gwen Stefani has fun prints and styles for girls, and Oakleys are always a hit for the boys!
When it comes to glasses for teen girls, I love the fun and stylish frames that Vera Bradley offers. They also have more teen-inclusive sizes, and who doesn't love a cute, matching case? Lilly Pulitzer also has some great styles and is a good option for the kiddos/teens who are in-between kids' frames and adult frame sizes. 
For teen boys, I recommend Ted Baker because it has a lot of trendy and stylish frames. But again, Champion frames are another great option for teen boys because some styles have a self-adjustable temple that you can bend behind your ears. They are perfect for those who are active in sports- they can tighten the frame themselves and then loosen it right back for casual wear!
In my day-to-day life, I love fashion and being able to change my glasses to match my outfits, so my eyewear is the perfect, stylish accessory! I also absolutely love my anti-fatigue lenses. Working on the computer, doing paperwork, and looking at tiny details while repairing eyeglasses definitely takes a toll on my eyes. Even though I don't have much of a prescription, the lenses help by giving me a little boost and offering relief to keep my eyes from straining and working harder than necessary. I also love non-glare! You can't go wrong with it, and there are so many benefits; it gives me the sharpest, clearest vision possible while also giving me the security of a scratch warranty!
I would also definitely recommend transitions to anyone who spends a lot of time outside because they eliminate the need to swap between regular glasses and sunglasses. However, I would not recommend them to someone who only wants them for driving because only particular lenses transition behind the windshield. I also wouldn't recommend them to those who go in and out of doors frequently because the transition time could be bothersome.
My recommendations are always specific to the person I'm helping and their prescription and lifestyle needs. However, the most important thing for me is to help them find something that they love and feel comfortable wearing. Ultimately I want to help give them more confidence!