Seeing True Color for the First Time with EnChroma® Eyeglasses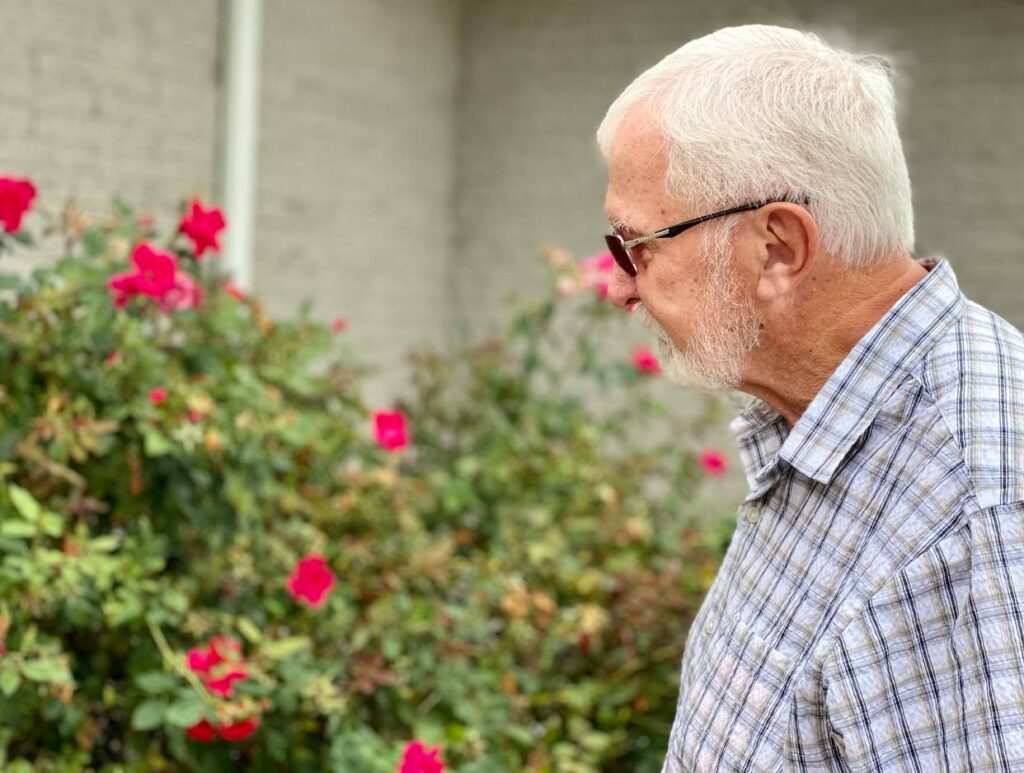 If you were to close your eyes and picture a sunset, rainbow, or the changing leaves of fall, what would you see?
Can you picture the vibrant shades of red? Stunning pinks? The excitement of yellow and orange? What about the mysterious depth of purple? Or the light but warm, comfort of blue? 
All these shades are easy to imagine for those with a full spectrum of color vision. But not everyone has the luxury of seeing these experiences in such glory. Those with color vision deficiency (CVD), also known as color blindness, struggle to distinguish the varying shades of color in these occurrences. A person with CVD does not see in black and white; they see some colors, but not all colors. The colors they do see will often look dull and muted, with various colors blending into one another.   
People with color blindness face challenges that never occur to the minds of those with full-color vision. 
Being directed by a cashier to push the green button on a card reader wouldn't cause most of us to pause. But without help, those with CVD can struggle to differentiate the red and green buttons. 
Reading a gas price listed in bold, red letters against a black background might seem clear to most of us. Yet, those with protanomaly color blindness struggle to differentiate red from black, making the sign almost impossible for them to read.
What is Color Vision Deficiency?
The most common forms of color blindness are Protanomaly (Protan CVD) and Deuteranomaly (Deutan CVD). Color blindness is the result of particular cones in the eye excessively overlapping. When this occurs, the cones become confused and lose sensitivity to the wavelengths that make up specific colors. The result is dullness instead of vibrancy and the creation of similarity between various colors. 
Is there hope for people with CVD to see an accurate interpretation of color? 
Thanks to EnChroma® eyeglasses, the answer is: Yes!
While wearing EnChroma glasses, most people with color blindness can see the world as it is. The lenses filter the wavelengths of light, allowing color to be interpreted correctly by those with color blindness.
Raymond Moritz, a patient at our Meadville branch, has experienced this magic first-hand.

Raymond is a father, grandfather, great-grandfather, former Army man, and retired machinist; he is also color blind.
Raymond has lived with color blindness his entire life:
"Growing up I went to a Catholic grade school; it was not like schools today. I was made fun of by the nuns because I had such a hard time learning colors. We didn't know I was color blind, so I was labeled 'dumb'".
It was not until he was in the Army that Raymond fully realized he was color blind. 
The form of color vision deficiency that affects Raymond is protan colorblindness. From this condition, he has difficulty differentiating precise colors, especially in low light conditions. To those with protan color blindness, shades of red, yellow, green, brown, and orange are almost indistinguishable. For Raymond, red and black are especially difficult to differentiate from one another. He also struggles to see the green light on traffic lights, especially at night. 
Recently, Ray received the opportunity to try EnChroma glasses for color vision correction. 
Ray's type of protan color blindness is so strong that correction is only available as sunglasses. Regardless, he wanted to give the glasses a chance. Expecting the glasses to make a slight difference, he was amazed at what he saw. Putting on his EnChroma glasses for the first time, he was astonished at the vibrancy and detail of color in the world around him. The difference in color between the flowers and their leaves as he looked at a nearby rose bush was shocking: 
"I wanted everyone else to try them on to see what I was seeing, but then I realized that's what everyone was always seeing!"
After enjoying them for a few weeks, we sat down and asked Ray some questions about his new EnChroma glasses. 
Which type of Enchroma glasses did you try? The Colorado frame with lenses for outdoor use.
What have been some of the biggest struggles you have faced with colorblindness? I cannot tell the difference between green and brown, red and black, etc.
I once lent a guy a tool to use. When I went to get it back, he told me to grab it out of his maroon car. I couldn't tell the difference between the red and maroon cars. I had to go back in and ask him the make and model!
When buying something and swiping my card, the cashier says, press the green button. I couldn't tell what the green button was and would have to ask the cashier if my wife wasn't with me.
These things can be embarrassing for us that cannot see colors.
When you first heard about them, did you honestly think the glasses would work?  I was always curious, especially after seeing the glasses on the tv and internet and seeing people have such big reactions. I jumped on the opportunity to just be able to see what seeing in color is like. I figured it would be something different, and I was curious. I was hoping for a difference, but what I got was so much more.
How have the glasses made a difference in your everyday life? Safety. The ability to tell which of the traffic lights is lit up at night when there are also street lights. Driving down the highway seeing the signs, I never realized how blue and green the traffic signs are. 
Are they comfortable? Oh yeah, very comfortable. The glasses actually work better than my regular sunglasses!
How often do you wear the glasses? Every time I drive. I mostly leave the glasses in the car. They are a bit too dark inside the house. 
Is there anything you dislike about the glasses? Other than being too dark to wear inside, nothing. 
What is your favorite thing about the glasses? Seeing the beauty of colors that people see. It makes me envious of people being able to see color their whole life, the way it really is. 
Would you encourage others with colorblindness to try these lenses? Why or Why not?
Yes, definitely! I don't think people realize what they are actually missing until they see the color for the first time- how it really is. 
If you are concerned about color blindness for yourself or a family member, you can take a free assessment here. Then, be sure to schedule with your eye doctor for proper diagnosis and treatment so you can view life to the fullest!